Lawn Treatments Services in the Tulsa Metro Area
ASC Outdoor Services is a locally owned and operated company in Tulsa Oklahoma that specializes in applying lawn treatments that are customized to your lawn type and terrain. We employ experienced professionals that are knowledgeable about the requirements for grass, trees or plants. Our goal is to provide customized Tulsa lawn services to your lawn and landscape features for a reasonable price.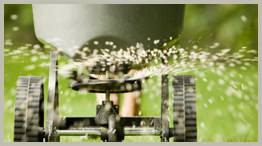 Fertilization Treatments
Our fertilization treatments are designed to provide the nutrients to your lawn and plants to promote healthy growth and beautiful results. All fertilizers will be applied by a state licensed and certified professional and applied according to manufacturer's recommendations at the optimal time of the year for the grass or plants.
| | |
| --- | --- |
| Lawn | Our lawn fertilization treatments are generally applied two times per year to help provide nutrients for a green and healthy lawn during the growing season. |
| Shrubs | Our shrub fertilization treatments are typically applied in the fall and spread evenly over the entire root system and lightly worked into the soil.  It is later absorbed into the soil and root system during the dormant period to promote a healthy growth in spring. |
| Trees | Tree pressure injection deep root fertilization treatments are applied once a year, typically in the early winter allowing enough time for the treatment to soak into the root system in time for spring growth. |
| Groundcover | Treatments for groundcover are usually applied in the spring and fall, according to manufacturer's recommendation to promote vigorous growth. |
Pricing is based on the size of the property. For an estimate on our Lawn Treatment packages in the Tulsa Metro Area, simply contact us or call us at 918-322-3111.
Weed Control Treatments
As a Tulsa-based lawn care company, we understand the challenges that our "Green Country" property owners face with the lawns being susceptible to crab grass, dandelions, clover, chicweeds and other weeds. We offer a variety of personalized weed control treatments that are customized for your grass type and will eliminate the unwanted plants while promoting a healthy lawn.
| | |
| --- | --- |
| | Pre-emergent treatments prevent weeds from establishing roots systems in the yard. This treatment is watered into the ground so that it soaks into the soil and forms a barrier that will prevent unwanted plants from spreading into your yard. |
| | Post-emergent treatments work to eliminate weeds that have already established a root system in your lawn. It is applied directly to the growth and will eliminate the growth on top and below the soil. |
Pest Control Treatments
ASC Outdoor Services provides homes with regularly scheduled perimeter control protection that will prevent invading insects from entering your home or commercial property. Our perimeter pest control program creates a 3-6 foot wide barrier around the exterior of your home that helps control ants, fleas, ticks, spiders, and many more before they have a chance to enter the home.
We will treat the areas within this band including grass, mulched beds, driveways and walkways. This is a great way to control insects without having insecticides inside your house where you eat, sleep and your children and pets play.
We offer customized packages that will provide optimal barrier treatments throughout the warmer seasons. Our package included four treatments: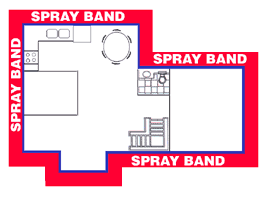 | | |
| --- | --- |
| Spring | The initial treatment will help prevent ants, pillbugs and other early pests from entering your home after Spring rains. |
| Early Summer | This treatment targets fleas, ground beetles, as well as ants and other Summer pests. |
| Mid-Summer | This treatment targets ants in the surrounding soil, spiders, crickets and a number of insects that mature in mid Summer. |
| Late Summer | Controls many insects. This treatment will also help reduce the number of insects and other pests from entering before cold weather begins. |
Pricing is based on the size of the property. For an estimate on our Pest Control Treatment packages, simply contact us or call us at 918-322-3111.
Yearly Weed and Fertilization Maintenance Programs
We offer several yearly weed control and fertilization maintenance programs that will promote grass growth, while reducing or eliminating the unwanted weeds. Our packages can include all or some of the services listed below and can be customized based on your needs or budget.
Product Applied

Date Range of Application

SPRING

Pre/Post Emergent Liquid

Feb / March

Pre/Post Emergent & Fertilizer Granular

April / May

SUMMER

Granular Fertilizer & Spot Spray Weeds

June / July

Granular Fertilizer & Spot Spray Weeds

July / August

Granular Fertilizer & Spot Spray Weeds

August / September

FALL

Pre/Post Emergent liquid Application

October / November
For an estimate on our Weed and Fertilization Treatment packages and all of the Tulsa lawn services we offer, simply contact us or call us at 918-322-3111.
Other Lawn Treatment Services
We offer a variety of other treatment services at various times of the year.
Product Applied

Date Range of Application

SPRING

March

March to June

SUMMER

June

June to September

September

FALL

October

September to November

August / November

September / October

WINTER

September thru April

January / March

January to December
Other Optional Lawn Services
For those who have additional lawn needs, we offer a variety of other optional services that can be included with your Tulsa lawn care maintenance program, such as specialized Tulsa lawn services on a one-time or regular basis.
Landscaping services or packages in the Tulsa Metro area, Contact us or Call us at 918-322-3111.